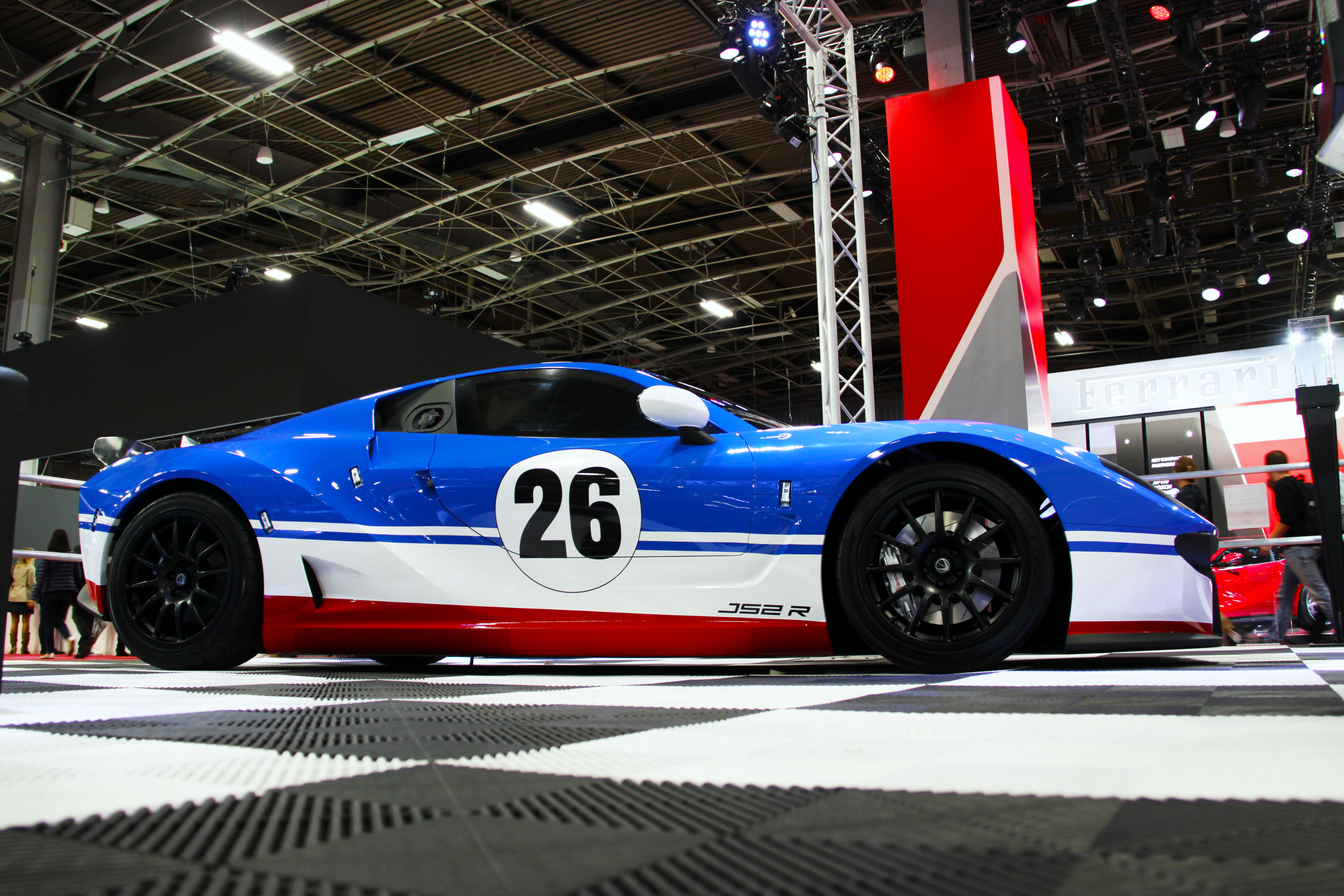 It has arrived. The Ligier JS2 R, the latest sports car of the Ligier brand, was unveiled on Thursday 11 October 2018, during the Paris Motor Show. Quick, reliable and fit for purpose, this car is accessible for all motorsport enthusiasts.
Announced last July, the French historic brand's new car has just come out. On Thursday 11 October 2018, on B.R.M Chronographes' stand at the Motor Show, Jacques Nicolet, CEO of Ligier-Onroak Automotive, presented this anniversary car:
"What better way to celebrate the 50th anniversary of the Ligier's brand than a new sports car? With its iconic livery, all is said. Ligier renews with the GT category. Remember, it was Guy Ligier's first love. In 1969, he had launched the Ligier JS1, the brand's first model, and in 1972, the Ligier JS2. We designed the Ligier JS2 R, a revival car, as a real racing car. A car to give maximum pleasure on the track, in races or on track days. Because this is what matters. I hope you will like it as much as we do."
The Ligier JS2 R: R as in Revival
From the very first look, the filiation is clear. The Ligier JS2 R takes its inspiration from the Ligier JS2 that finished second at the 1975 Le Mans 24 Hours. Outside, a sporty look with powerful and dynamic lines. Inside, a neat and comfortable cockpit to welcome tall drivers as well as a passenger.
The Ligier JS2 R: R as in Racing
The Ligier JS2 R is not a series production car adapted for driving on a track. It is a real racing car. Easy-to-drive, fast and reliable. Its aim: offer all enthusiasts a car to have some fun on a track.
Equipped with a Ford V6 3.7 litres engine producing 330 horsepower, for 980 kg, it has nothing to envy sports-prototypes. 100 litres fuel tank, BREMBO brakes, centrifugal clutch, adjustable dampers, steering wheel paddle shift, heating windscreen – this car gives full satisfaction to its driver.
With low running costs, long gaps between revisions and easy mechanical maintenance, the Ligier JS2 R has been designed to provide endless hours of pleasure behind the wheel. It can be homologated in the FIA Free Formula Sports Cars (Group E) category and is equipped with cutting-edge safety equipment.
The Ligier JS2 R: available for tests from November 2018 
Various test days are scheduled in November 2018 in Europe. Ligier has booked some slots between 5 and 7 pm in November on the Nevers Magny-Cours track. The Grand Prix track of the Nevers Magny-Cours circuit has been reserved on 15 and 16 November 2018.
Do not wait. Book your test day (Contact: Christophe Profit – c.profit@onroak.com). The first deliveries are scheduled in January 2019.
The Ligier JS Cup: a new playing field
Ligier has created a new concept, the Ligier JS Cup – a single-brand formula whose sole aim is to combine pleasure and performance. The Ligier JS Cup kicks off in France in 2019 with the Ligier JS Cup France dedicated to the Ligier JS2 R. More information on this championship in November.